To see the fireworks view from the Observation Deck, click
HERE
Underwent extensive renovations in 2012-2013
Delight in sweeping views and culinary mastery at this award-winning restaurant showcasing fresh Californian cuisine.
--
Sublime Vistas and Spectacular Cuisine
Experience the flavors of the Pacific Coast at this award-winning restaurant.
Via private elevator, ascend to the 15th floor of Disney's Contemporary Resort, where you'll discover exquisite panoramic views of the shimmering lagoon, Floridian woodland and Cinderella Castle. Inside, enjoy the vibrant sights and sounds of the lively onstage kitchen, where chefs combine global flavors in deliciously inventive new ways.
Gourmet Dining
Californian cuisine celebrates fresh, seasonal ingredients and the international, melting-pot culture of the Golden State. Changing seasonally, the menu may include such specialties as handmade Sonoma goat cheese ravioli, steamed mussels and oak-grilled filet of beef.
Delight in mouthwatering sushi, as well as brick oven-fired flatbreads topped with roasted chicken and caramelized onions, sun-dried tomatoes and three cheeses, or black beans and braised pork. Then polish off a perfect meal with decadent desserts like warm Valrhona chocolate cake, cheesecake and fruit cobbler.
To complement their entrées, Guests 21 years of age and up can select from over 300 hand-picked wines—most of which are from California. Over 50 are available by the glass, and sommeliers are on hand to offer pairing suggestions.
Magic Kingdom Fireworks Spectacular
California Grill offers one of the best fireworks dining experiences at Walt Disney World Resort.
Lights dim as the music is piped into the restaurant—immersing Guests in the magic of the night.
Dining before the fireworks? Bring your receipt to the check-in desk on the 2nd floor for reentry to California Grill. Then, enjoy the show either from California Grill Lounge or the outside observation deck.
Guests with a dining reservation after the fireworks are also invited to watch the show from the lounge or observation deck.
California Grill Lounge
Enjoy pre-dinner cocktails and first-come, first-served seating in the lounge, offering the same menu as the restaurant.
Check-In
Check in at the podium located on the 2nd floor of Disney's Contemporary Resort. A Cast Member will then escort you up to the 15th floor in an elevator exclusively reserved for California Grill Guests.
Dress Code
At this signature dining experience, Guests are asked to adhere to the dress code.
Men may wear khakis, slacks, jeans or dress shorts and collared shirts. Sport coats are optional.
Women may wear Capri pants, skirts, dresses, jeans or dress shorts.
Not permitted are tank tops, swimsuits, swimsuit cover-ups, hats for gentlemen, cut-offs, torn clothing and t-shirts with offensive language and/or graphics.
Reservations
Advance reservations are highly recommended and can be made up to 180 days prior to your visit.
If reservations are unavailable for the date and time you would like to visit, you may be able to request seating at California Grill Lounge at the check-in podium on the 2nd floor of Disney's Contemporary Resort.
Seating at California Grill Lounge is first-come, first-served; reservations are not accepted.
Please note, the menu changes often, here is a sample:
California Grill
Appetizers
Oven-dried Tomato Flatbread
Beefsteak Tomatoes, Mozzarella di Bufala, Aged Balsamic
$13.00
Three-Meat Signature Meatballs
Picholine Olives, Herbed Orzo, Chimichurri, Lavender Mint
$15.00
Pork Pâté Flatbread
Roasted Garlic, Mascarpone Cheese, Royal Trumpet Mushroom Chips
$14.00
Baked Jumbo Prawns
Charred Lemon, Blistered Baby Tomato and Cippolini Onion Relish, Watercress
$20.00
Roasted "Surf & Turf"
New Smyrna Clams, Saffron-infused Fennel and Chorizo Butter, Bone Marrow
$16.00
Duck in all its Glory
House-made Sausage, Rillettes, Prosciutto, Duck Liver Pâté, Cranberry Compote
$17.00
Sonoma Goat Cheese Ravioli
Tomato-Fennel Broth, crispy Mushrooms, Tiny Basil, Benziger Estate Olive Oil
$14.00
Sushi
Tuna Four Ways
Poke, Tartare, Maki, Nigiri
$26.00
Yuzu-marinated Sashimi
Yellowfin Tuna, Salmon, Hamachi, Snapper, Wasabi Oil
$24.00
Dragon Roll
Spicy and Tataki Tuna, Shrimp Tempura, Bell Pepper, Avocado, Chili-Soy Glaze
$29.00
Spicy Kazan Roll
Crab, Shrimp, Scallops, Tuna, Fireball Sauce
$26.00
California Combination Roll
Jumbo Lump Crab, Avocado, Cucumber, Shrimp Tempura
$24.00
Pork Belly Nigri
House-cured Pork, Bacon and Yuzu Rice, Spicy Teriyaki
$22.00
Soup & Salads
Crispy Rock Shrimp Salad
Spicy Baby Greens, Subarashii Pear, Red Onions, Soy Reduction, Wasabi Cream
$17.00
Heirloom Tomatoes
Daily Variety with Grilled Bread, Baby Basil, Ricotta, Blistered Shisito Vinaigrette
$17.00
Farmers Salad
Season's Peak Vegetables, Soft-poached Organic Egg, Honey-Sherry Vinaigrette
$16.00
Carrot and Cilantro Soup
Spiced Paprika Oil, Lime Blackened Whitefish, Citrus-Coriander Bloom
$12.00
Baby Romaine
Roasted Garlic Dressing, Boquerones, Sun-dried Tomatoes, Brioche Croutons
$15.00
Entrées
Pork Two Ways
Grilled Tenderloin, Goat Cheese Polenta, Mushrooms, Lacquered Belly, Applesauce
$37.00
Oak-fired Filet of Beef
Heirloom Tomato Risotto, Baby Vine Tomatoes, Petite Basil, Tomato Butter
$49.00
Florida Red Snapper
Warm Crimson Lentil Salad, Tiny Buttered Vegetables, Lemon Foam, Almond Pistou
$42.00
24-Hour Short Rib Filet
Caramelized Root Vegetables, Olive Oil-Potato Puree, Red Wine Butter
$40.00
Georges Bank Scallops
Homemade Gnocchi, Smoked Pork, Grilled Onions, Baby Brussels, Parmesan Foam
$43.00
Bell & Evans Chicken
Smoked Tillamook-Yukon Potatoes, Braised Lacinato Kale, Caramelized Onion Jus
$35.00
Roasted Squash Ravioli
Root Spinach, Parsnips, Sage Brown Butter, 12 year Balsamic
$32.00
Pacific Halibut
Parsnip Silk, Roasted Heirloom Beets, Arugula, Macadamia Vinaigrette, Beet Syrup
$42.00
Desserts
Chef's Selection Cheese Board
Selection of Five unique Cheeses with Accompaniments
$20.00
Chocolate Pudding Cake
Luscious Chocolate Cake with Nutella Filling, Meringue Kisses, and Mint Chantilly
$13.00
Warm Homemade Fritters
Banana-stuffed, Cinnamon-dusted Fritters with Toasted Caramel Marshmallows complemented with a Trio of Dipping Sauces
$12.00
Sundae Sampler
Unique and playful Sundaes with a nostalgic twist: Caramel Corn, Coke® Float, and Strawberry and Basil
$12.00
Lemon Meringue Cheesecake (No Sugar Added)
Meyer Lemon-Mascarpone Cheesecake, Ctirus Cookie, and Charred Meringue Clouds
$12.00
Seasonal Tasting
Heirloom Apple - Apple Cupcake with Cream Cheese, Streusel and Peanut Butter Caramel, Warm Cider, Apple-Cinnamon Crème Brûlée, and Apple-Almond Tart with Spiced Compote
$12.00
Featured Wines
Heitz Wine Cellars Chardonnay, Napa
$15.00
Honig Cabernet Sauvignon, Napa
$17.00
Roederer Sparkling Brut, Anderson Valley NV
$14.00
Kids' Appetizers
Baby Iceberg Wedge Salad
with curled Carrots, Baby Tomatoes, and Fat-free Ranch Dressing
$5.00
Grilled Seasonal Vegetable Lettuce Wraps
with Hummus Dip
$5.00
Mickey Check Meals
Grilled Chicken Breast
Citrus-glazed Grilled Chicken Breast with Baby Steamed Carrots, crushed Sweet Potatoes, and Sesaonal Fruit Kabobs with Freshly Made Yogurt Dip. Choice of Small Lowfat Milk or Small Dasani® Water. Meets Disney Nutrition Guildelines for Complete Meals without substitution
$15.00
Pasta
Whole-Grain Macaroni Pasta with Oven-fired Tomato Sauce served with Seasonal Fruit Kabobs with Freshly Made Yogurt Dip. Choice of Small Lowfat Milk or Small Dasani® Water. Meets Disney Nutrition Guildelines for Complete Meals without substitution
$14.00
Grilled Beef Tenderloin
Grilled Beef Tenderloin with Baby Carrots, crushed Sweet Potatoes and Ketchup Sauce, and Seasonal Fruit Kabobs with Freshly Made Yogurt Dip. Choice of Small Lowfat Milk or Small Dasani® Water. Meets Disney Nutrition Guidelines for Complete Meals without substitution
$18.00
Kids' Entrées
Provolone and Fresh Tomato Pizza
served with choice of Small Lowfat Milk, Small Dasani® Water, or Small Minute Maid® Apple Juice
$9.00
Kids' Desserts
California Grill Signature Puffed Rice Sushi
$6.00
Seasonal Fruit Kabobs
with Freshly Made Yogurt Dip
$5.00
Cookies and Cream
Fresh-baked Petite Chocolate Chip Cookies with Vanilla and Chocolate Pop Rocks Ice Cream
$6.00
Omasake Experience
Omakase literally means "I'll leave it to you."
California Grill offers the nightly Omakase experience only on the Sushi Counter. Our tasting menu may change daily, based on the freshest, most seasonal selections. Multiple dishes starting with lighter courses with a progression to heavier, richer choices. Delicately prepared in Japanese tradition by our chefs from the day's freshest ingredients. "California Grill's tradition of high quality, unique sushi meets a Japanese tradition of Omakase – a multi course, ever changing, progressive dining experience ranging from 12 to 14 courses. The selections are delivered by the Sushi Chefs to create a unique and memorable dining experience."
Please note that we regularly serve uni, oysters, octopus, crab, lobster, sweet shrimp and squid, and on many days we serve all of them. Unfortunately, for this experience we are unable to accommodate guest with special dietary needs like vegetarians, gluten-free meals or guest that do not eat rice or vinegar; we respectfully request that you do not make a reservation if you have one of these dietary restrictions.
California Grill
Omakase
Spiced Pork Pot Sticker
in fragrant Fish Broth, Rice Noodle, and Wakame
Amaebi Tempura (Sweet Shrimp)
with warm Rice Cake, Micro Wasabi, and Ponzu Sauce
Tuna Toro Nigiri
and Signature Soy Glaze
Salmon "Crudo"
with Subarashii Pears, Soy Pearls, Citrus, and Cucumber Blooms
Edamame Bowl
with Togarashi, Bonito Flakes, and Citrus Zest
"Legs and Eggs" Maine Lobster
with Tobiko and Wasabi Cream
Squid Salad
Tako (Octopus) Nigiri with Eel Sauce
Crunchy Japanese Bone Marrow
with Sesame Beef Tartare and Red Onion Marmalade
Tuna Tempura Malibu
with Sesame Dressing
Spicy-crusted Oysters
with Tempura Mango and fresh Citrus Wasabi
"Surf & Turf"
Seared Wagyu Beef with Lobster, Mushrooms, and Wasabi Tobiko Aioli
Mango and Coconut Rice Pudding
with Hibiscus Syrup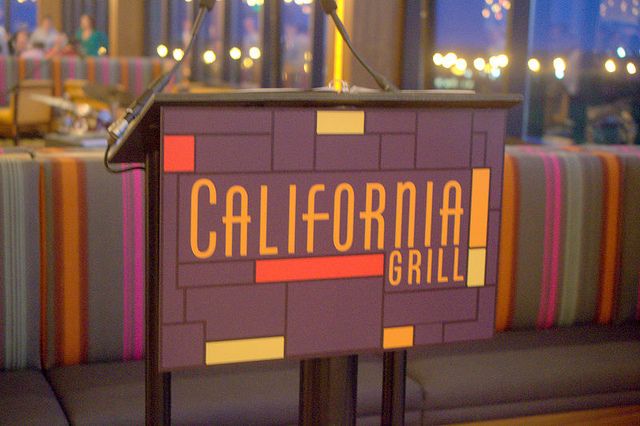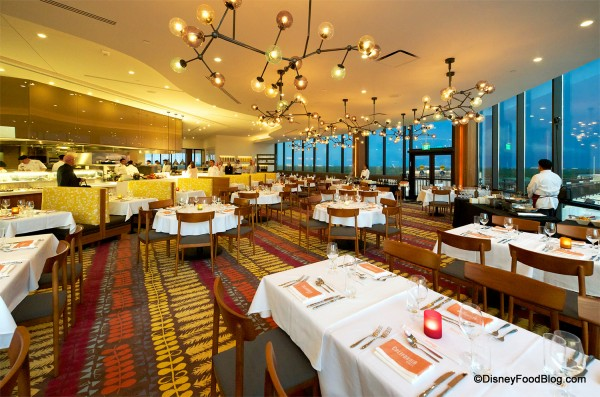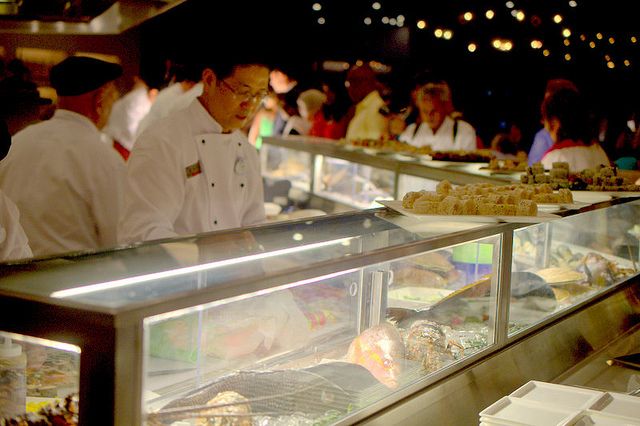 Photos from California Grill before the renovation:
View